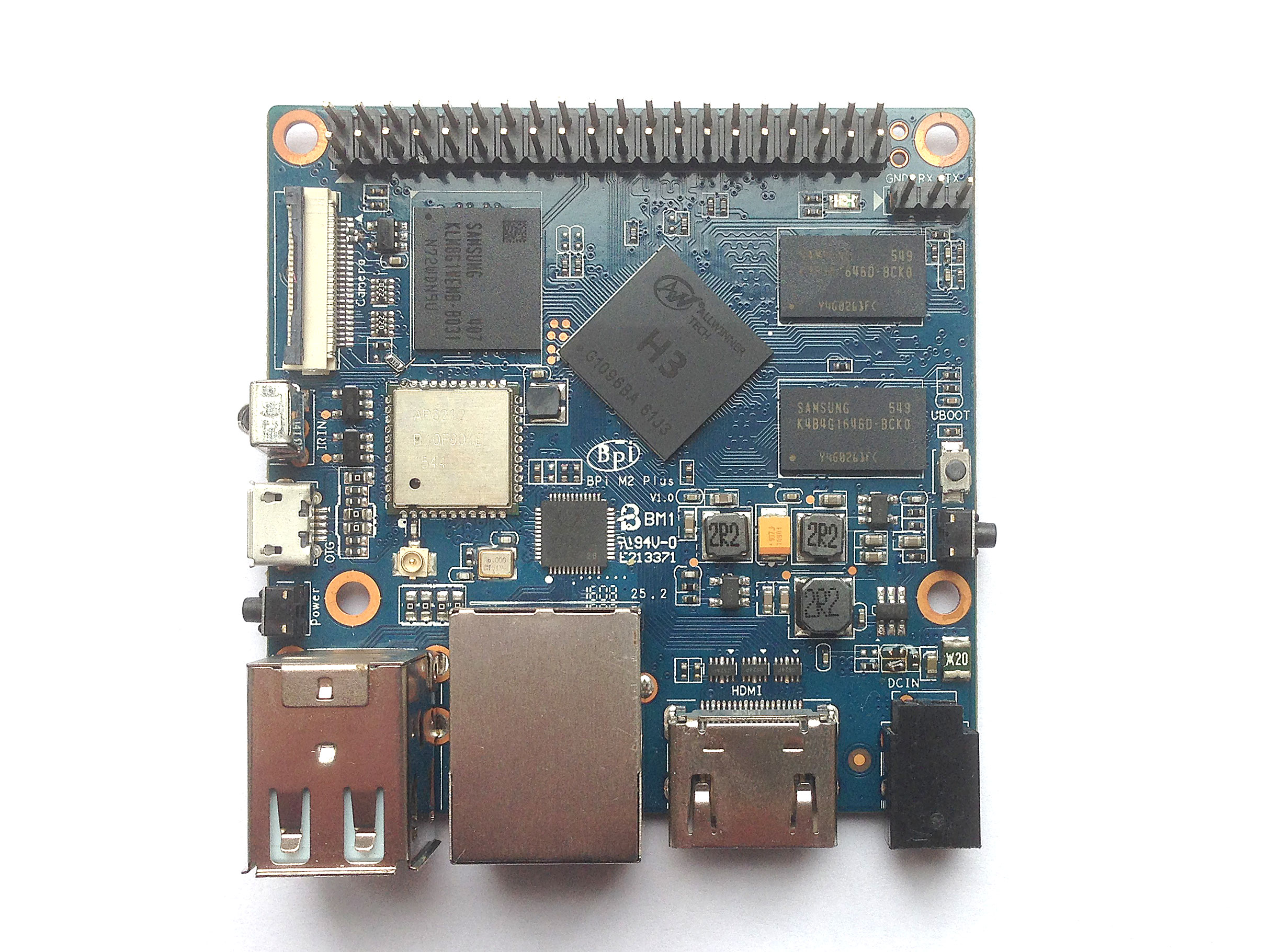 Overview:
SinoVoip sent me a few days ago a review sample of their new Banana Pi M2+. It's based on Allwinner's H3 SoC and tries very hard to be a 99% clone of Orange Pi Plus/PC. SinoVoip chose to stay compatible to nearly all pin mappings therefore any OS image that works on Orange Pi Plus will also work on BPi M2+ but some things need adjustments.
BPi M2+ features GBit Ethernet, eMMC, 2 USB host ports and one USB OTG that do not have to share bandwidth (no internal USB hub used and H3's 3rd USB host port unused unfortunately), Ampak AP6212 to provide WiFI/BT, fortunately no crappy USB-to-SATA bridge, a CSI interface to be used together with an OV5460 5MP camera module and... no programmable voltage regulator for the SoC.
Since it's based on the H3 SoC it's incompatible to all other Banana Pi variants and almost everything you can expect is already known. As usual you find the most recent and comprehensive information for any board based on Allwinner SoCs in the linux-sunxi wiki: http://linux-sunxi.o...p_Banana_Pi_M2+
Compatibility:
The SoC's pins are routed to the externals exactly like on Orange Pi Plus/PC so it was pretty easy to create a device tree file for mainline kernel by using everything from Orange Pi Plus and replacing USB definitions with the stuff from Orange Pi PC (deleting the usb3 node since not existent) and here we are: Banana Pi M2+ is supported by mainline kernel with working USB, eMMC, GBit Ethernet and WiFi/BT already and as soon as display support and so on are available for H3 BPi M2+ benefits automagically from it.
Situation with kernel 3.4 is the same: In Armbian we support the board already since it was just adoption of SinoVoip's settings (and correction where they're horribly wrong -- see below when it's about performance). Since it's 'just another H3 board' software support will progress nicely and maybe the best news: You are not forced to use OS images from SinoVoip since you can rely on the community's work instead (Armbian for example).
Documentation and support provided by vendor:
To sum it up: still the usual horrible 'SinoVoip experience' we already know. They still don't get why correct information might matter. 'Documentation' is not written by engineers but instead trainees playing 'copy&paste gone wrong'. According to their website the board is either '55mm square' or 65x65mm, features 'Power led, Status led' (in reality just one led), has a 'CAN bus' (wrong for all their last SBCs, this is still moronic copy&paste from the first Banana Pi whose A20 SoC is CAN capable) and so on... you never know whether the information provided there is information or just the usual copy&paste errors they're famous for.
It gets even worse when you look into the vendor's so called 'documentation': There the M2+ is most of the times called M3 ("BPI-M2+ USB interface: BPI-M3 have two USB 2.0 interface on board"), the onboard WiFi chip is sometimes AP6212 and sometimes AP6181, according to the 'BPI-M2+ Quick Start' guide you can power the board through USB OTG (not true) and a '3.5mm jack audio' is available (which is also not true) and so on. And they ask you to download OS images from http://www.banan-pi.org (domain does not exist). Any more questions? If you've to rely on their information or support you're already lost since the vendor simply doesn't give a shit about stuff like this.
Software provided by the vendor:
Since SinoVoip today released an OS image for M2+ -- they call it Raspbian Jessie(debian 8) BPI-M2P (20160408) -- I thought: let's give it a try. Armbian supports this board already but maybe we missed something. OMFG, what a horrible experience! I burned this Raspbian image to a 8GB SD card and booted. Whole boot log as follows:
And then I had an installation with zero free space. You can't do anything with it:

Filesystem      Size  Used Avail Use% Mounted on
/dev/root       3.9G  3.7G     0 100% /
devtmpfs        373M     0  373M   0% /dev
tmpfs           501M   68K  501M   1% /dev/shm
tmpfs           501M  6.9M  494M   2% /run
tmpfs           5.0M  4.0K  5.0M   1% /run/lock
tmpfs           501M     0  501M   0% /sys/fs/cgroup
/dev/mmcblk0p1  256M   45M  211M  18% /boot
tmpfs           101M  4.0K  101M   1% /run/user/1000
/dev/mmcblk1p1  7.2G  145M  6.7G   3% /media/pi/3684f9bd-1ea5-4cd0-a75b-b47af6147d77
tmpfs           101M     0  101M   0% /run/user/0

I quickly used Armbian's tools to resize the partition to the maximum and rebooted just to realise that they really use raspbian.org repositories for this OS image (how moronic is it to use ARMv6 code on a H3 board?!). I tried to get RPi-Monitor installed which didn't work out of the box, wasted almost an hour to fix this stuff and then gave up. Since I simply copied our armbianmonitor tool to the installation I gave up on RPi-Monitor and used armbianmonitor instead to monitor temperatures, CPU clockspeed and so on when running a few benchmarks:
The bad news:
BPi M2+ is a 99% clone of Orange Pi Plus/PC. Why didn't they do a 100% copy but instead chose to f*ck up the missing one percent? The Orange Pi variants all use a programmable voltage regulator to provide the SoC's VDD_CPUX voltage (lower clockspeeds --> lower voltage --> less heat --> more efficient throttling behaviour if SoC starts to overheat). On BPi M2+ the SoC is always fed with 1.3V which prevents best performance with heavy multithreaded workloads. Be prepared that due to this high voltage even throttling down to half of the maximum clockspeed doesn't help that much:
This is a not so demanding benchmark running with Armbian settings. Any Orange Pi variant would reduce voltages when reduding clockspeeds which is responsible for less heat emissions and therefore with the very same settings a H3 used on an Orange Pi would still run with 816, 912 or even 960 MHz due to reduced VDD_CPUX voltage where BPi M2+ remains at 648 MHz.
SinoVoip not only tried to copy the hardware very closely, they also use loboris' kernel 3.4 sources developed for Orange Pis (Armbian uses a different code base) and they chose to copy the most important mistake Xunlong made so far (the Orange Pi vendor, that developed also the 1st Banana Pi that has been manufactured by SinoVoip from then on).
Their throttling settings prefer killing CPU cores instead of throttling if the SoC starts to overheat. This is the main reason why Orange Pi boards get that bad scores on openbenchmarking.org: Since the multithreaded benchmarks increase temperatures that much that CPU cores are killed and never come back.
This is exactly what happens with SinoVoip's software settings: I started an usual run of Phoronix Test Suite, the 1st benchmark already killed cpu3, the next one cpu2 and due to their moronic THS settings the maximum clockspeed is 1008 MHz anyway. So a SBC advertised as 'quad core @ 1.2GHz' is already just a 'dual core @ 1.0GHz' when running a few boring benchmarks:

[ 2749.050080] CPU Budget:Try to down cpu 3, cluster0 online 4, limit 3
[ 2749.051406] [hotplug]: cpu(0) try to kill cpu(3)
[ 2749.052482] [hotplug]: cpu3 is killed! .
[ 4575.080090] CPU Budget:Try to down cpu 2, cluster0 online 3, limit 2
[ 4575.081791] [hotplug]: cpu(0) try to kill cpu(2)
[ 4575.081853] [hotplug]: cpu2 is killed! .

And benchmark results look as expected: The worst combination is SinoVoip hardware combined with SinoVoip software: http://openbenchmark...-GA-1604074GA00
We implemented a special corekeeper service especially for M2+ in Armbian two days ago to help recover from killed CPU cores (since we can't prevent this as long as we've to rely on kernel 3.4 and the M2+'s fixed voltage is a real problem). Be prepared that if you run really demanding workloads on the BPi M2+ with their OS images that you end up with a single core board pretty soon.
The good news:
Since it's 'just another H3 board' trying very hard to be as compatible as possible to the Oranges you benefit automagically from every software effort made by the community. You don't need to use software from SinoVoip, you don't need to rely on their (non existing) support, you simply can use any of the community's stuff. Mainlining efforts are progressing nicely and by simply mixing device tree stuff from Orange Pi Plus and PC I've been able to get the BPi M2+ with working GBit Ethernet and maximum USB throughput running with kernel 4.6.
As a reference iozone measurements of a USB connected HDD (UASP capable enclosure which is responsible for better performance with mainline kernel) and the onboard eMMC:
'SinoVoip' 3.4.39-lobo kernel:

USB disk:                                                   random  random
              KB  reclen   write rewrite    read    reread    read   write
          102400       4    6347    8163     8494     8473     506    1603
          102400      16   15420   18110    16543    16674    1885    5445
          102400     512   23024   33610    32381    32779   23049   23276
          102400    1024   17930   30673    23079    24077   23051   24331
          102400   16384   22468   35098    34304    34148   34189   35090
          
eMMC:                                                       random  random
              KB  reclen   write rewrite    read    reread    read   write
          102400       4    5323    5683    14130    14135   12028    5573
          102400      16   17531   18513    34499    34598   31193   17278
          102400     512   24868   24626    61687    61697   61581   23991
          102400    1024   25134   24949    66979    67180   67140   24553
          102400   16384   26165   25950    76265    76649   76701   25931
4.6.0-rc1:

USB disk:                                                       random  random
              KB  reclen    write  rewrite     read   reread     read    write
          102400       4     7760     7917     7845     7868      505     1445
          102400      16    17647    20568    20593    20945     1945     4729
          102400     512    27334    35579    38033    38553    24980    35320
          102400    1024    27419    36866    38764    39026    30661    36766
          102400   16384    28267    37358    38540    38558    38988    37542

eMMC:                                                           random  random
              KB  reclen    write  rewrite     read   reread     read    write
          102400       4     5233     5708    14953    14951    12650     5916
          102400      16    19776    20609    37958    38023    34206    19403
          102400     512    26981    27200    78648    78752    77930    26121
          102400    1024    27188    27173    78793    78764    78431    26651
          102400   16384    27276    27135    79341    79440    79406    27334
Open questions:
The board is designed to be used with an OmniVision OV5460 camera module (Xunlong sells a cheap GalaxyCore gc2035 camera module instead). The very same camera module has already been sold for Banana Pi. And the state of the driver prevented any resolutions above 640x480 (video). So unless someone is able to check the state of the drivers the use of this 'superiour' 5MP module is questionable (at least when you try to run the board with Linux -- Android might be a different story)
Conclusion:
If the price will be competitive this board is worth a look unlike other SinoVoip boards (M2/M3). It's already fully supported by Armbian so there's no need to use any of the crappy OS images the vendor provides (it's easy to use our Armbian build system to create OS images for non Debian based distros, just read the docs!)